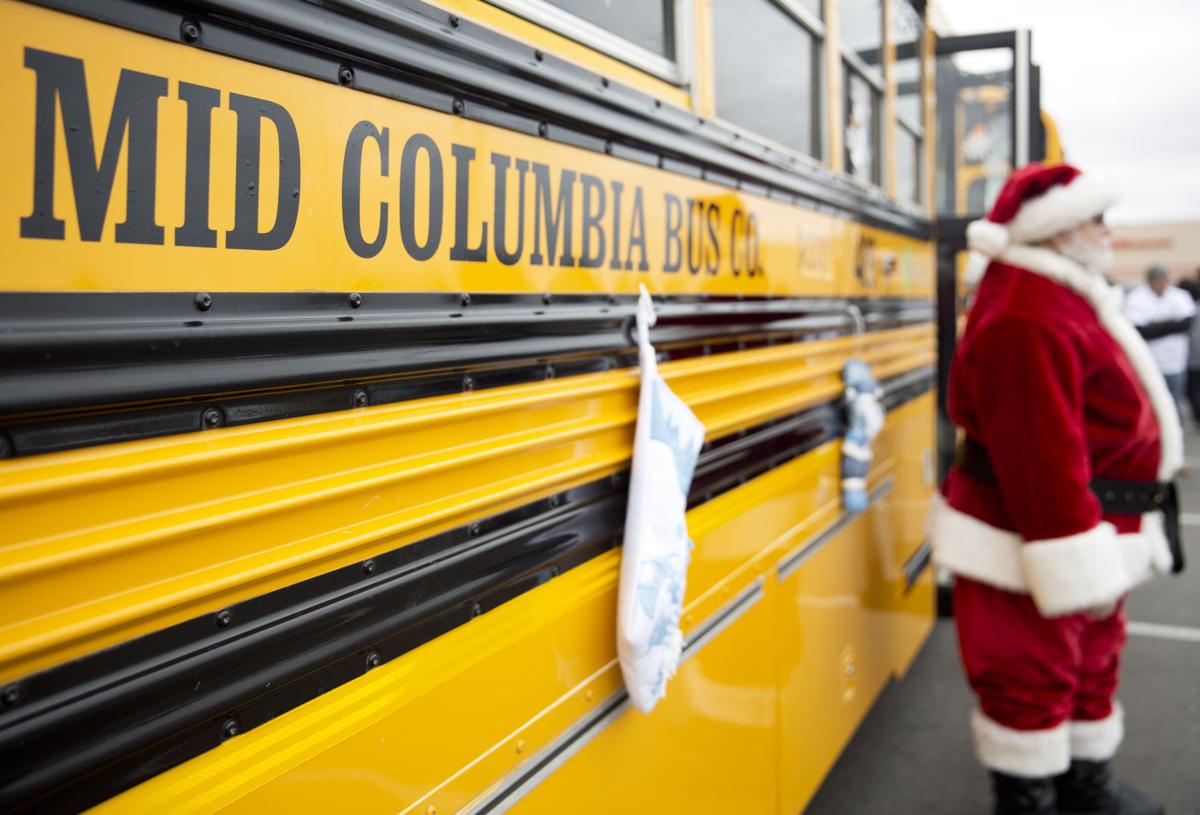 Santa Claus stands next to one of the Mid Columbia Bus Co. buses used to haul donations Saturday, Dec. 3, 2016, during the 12th annual Stuff The Bus event at the Target parking lot in Twin Falls.
TWIN FALLS — The season of giving is in full swing, and nowhere was the spirit of the holidays more evident Saturday than at the 12th annual Stuff the Bus food and toy drive in Twin Falls.
With all proceeds going to the local chapter of the Salvation Army, Stuff the Bus gives members of the Twin Falls and surrounding communities the opportunity to help a family in need this holiday season by donating new, unwrapped toys or non-perishable food items. Donated items are then packaged in Christmas boxes and distributed to those families, ensuring each has a Merry Christmas.
Though the number of families who benefit from the event varies from year to year, the Salvation Army is expecting the figure to reach well into the hundreds.
"We started with one bus and sorta, kinda filled it the first year," Johnson said, smiling. "We spread all the gifts out to make the bus look fuller than it was. After a few years, we could no longer fit stuff on the bus, people would show up with donations so large, we would just have them take it directly to the Salvation Army. We started filling two buses a few years ago, and I noticed Mid-Columbia Bus Company has a third bus today, so they're thinking really big, which is great. If we can fill all three, that would be outstanding."
Joey Bravo of KTPZ the Monster said he looks forward to this event every year, and he praised the community for continuing to support Stuff the Bus as it continues to grow.
"No kid should be sad during Christmas because he has nothing to celebrate," Bravo said. "Everybody should be fed, everybody should have a gift to open. We like to come together, all our radio stations to spread the joy and spread the love. This community is full of love, so many people come out to this every year, little kids to senior citizens and everyone in-between to support this awesome cause. We live in a wonderful community, and everyone needs to know that."